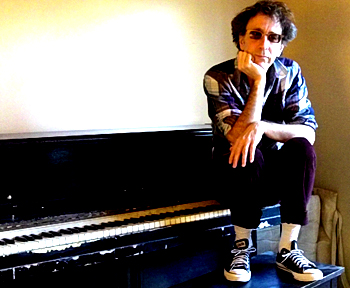 Me at the piano in Studio City, California on Feb. 17, 2011.
Photo credit: Noah Banks.
Hi there. Some of you may know me from
MY STORIES
for
Los Angeles Times
,
New York Times
The Credits
,
Wired
,
Fast Company
,
New Yorker.com
and
elsewhere
. My
Peter Jackson interview
earned a
2013 Mirror Award
nomination for
Best Digital Media Article
. In 2016,
Oxford University Press
re-printed one of my Fast Company pieces for its book
CREATIVITY: A Reader for Writers
.
On the music front, my four-song EP Dog Park landed on FVM music blog's Hot Picks Playlist, which described the tracks as "Superb rock-pop." Also, from Alt77: "I was dancing all around while listening to this. Infectious, damn it. The melodies are also really good." We All Want Someone to Shout For: "A big confident chugging rock anthem with big confident production work." American Pancake: "Great track." Top Indie Alt: "Nice track. Enjoyed the vibe." Atlas Atlas: "I like the creativity in this work."
Chicago Reader chronicled the rise and fall of my band The ODD in its Secret History of Chicago Music series. The ODD is also featured on Black Parrot Music's New Wave compilation album Chgo Club Vol 1, which re-released my song "Lean To" in April, 2022, now available on Pandora.
Bio stuff: I grew up in the Old Country, AKA Chicago, and moved to Los Angeles' posh Pacific Palisades neighborhood in 2000 to manage a Tribune Company website. After a year, I jumped ship and re-located to Sherman Oaks followed by a brief home ownership misadventure in Van Nuys, AKA Helltown. Next my lovely wife Marla and lived in a Laurel Canyon cottage. We moved back to Chicago (don't ask) with our wonderful Afghan hound Oliver for 11 months (don't ask), then returned to Pasadena late last 2021. From here, I write about movies and television.
Also, here is the animated resume tracking my fonts-gone-wild work history from rock and roller to website designer and pop culture pontificator.