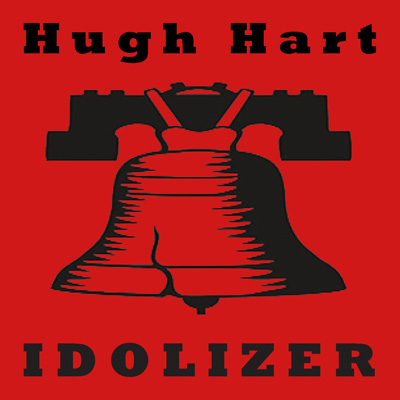 Idolizer
EP written and performed by Hugh Hart. All Rights Reserved Flux Records.
1.
THEY JUST KEEP COMING ON
2.
ALL FALL DOWN
3.
TOO MANY TEARS*
4.
YOU NEVER CRACK
CREDITS: written and performed by Hugh Hart
mixed by Lee Popa | mastered and mixed* by John Carpenter
recorded in Los Angeles, California
guitars by J.D. Dragus: They Just Keep Coming On and Too Many Tears
mandolin by John Rice: They Just Keep Coming On
BIO: Hugh Hart led Chicago rock quartet Wedge, praised by CMJ as a "guitar-fueled pop wonder," before moving west to work on writing and music projects. He lives in Los Angeles.
PRESS: Classically-tailored rock and roll that incorporates swaggering R&B, rumbling quasi-psychedelia and harmonica-dusted acoustic strum-alongs. Hugh Hart skillfully layers wry lyrics, distinctive vocal melodies and sharply plotted chord progressions over tough hooks to create pieces that are thoroughly contemporary. Chicago Reader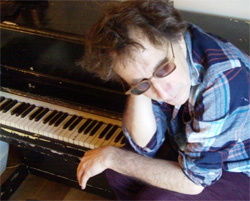 Hugh Hart at piano. Photo credit: Noah Banks.
Wedge has a mighty firm grasp on its own pop sensibilties...add the amount of melodic care that's spoonfed into each song, and what emerges is a solid collection of infectious, memorable tracks.
College Music Journal
Recently, musician/journalist Hugh Hart (wrote) "They Just Keep Coming On" . . .an amiable, Neil Young Harvest era arrangement and clever but biting wordplay. . .
Slumgullion #73
PURCHASE: The Idolizer EP is available via PayPal for $4 ("Send Money" to hugh.hart@att.net). Email your mailing address to hugh.hart@att.net and a limited edition CD in hand-crafted packaging will be mailed to you.
UPCOMING: Hugh Hart's full-length Idolizer album is set for release fall 2012 on Flux Records
CONTACT: mr.hughhart@gmail.com
copyright 2012 Hugh Music / BMI | All rights reserved Flux Records.