WIRED.COM 2009
Sci-Fi Fairy Tales Get Weird in Super Punch Contest
Site Shines Light on Star Trek Sound Designers
Depp Salutes Heath Ledger, Imaginarium Cast
Wired.com 12-28-thru-12-31-09
Imaginarium Tests Terry Gilliam's Ingenuity PLUS Sundance Rolls Out "HOWL" In Bay Area
San Francisco Chronicle 12.27.09
Mr. Fox Puppets Offer Fantastic Christmas Wishes
TV Decade in Review: Reality, 1; Fantasy, 0
Mind-Game Movies Mark '00s Cinema of Paranoia
Review: Wobbly 'Imaginarium of Doctor Parnassus' Still Enchants
Growing Up Heroes Photo Blog Captures Kids in Capes
Review: Sherlock Holmes Gives Brainy Detective Plenty of Brawn
Wired.com 12-21-thru-12-25-09
Review: Powerful Avatar Stuns the Eye, Seduces the Heart
New Alice in Wonderland Trailer Revels in Red Queen's Villainy
Solomon Kane Movie Updates Pulp Fiction Classic
Creature From the Black Lagoon Rises Again
Lord of the Rings Blu-Ray Trilogy Adds 7 Hours of Goodies
Wired.com
12-14-thru-12-18-09
Natalie Portman Plans to Play Zombie Slayer
Portable Grindhouse Revels In Vintage VHS Box Art
'1000 Comic Books You Must Read' Digs Into Pulp's Past
Instrument Inventor Hears Music Everywhere
15 Gigs Lets Web Audiences Rate Fox Sitcom Pilots
Lost Schools Fans With 'Lost University' Blu-ray Feature
Sci-Fi Moon Pic Wins British Film Trophies
Emigre Compilation Revisits 'Punk' Era of Graphic Design
Avatar Spoof Paints James Cameron as CGI Junkie
Wired.com
12-07-thru-12-11-09
Emigre Compilation Revisits 'Punk' Era of Graphic Design
Avatar Spoof Paints James Cameron as CGI Junkie
Movies: Natalie Portman Causes Friction in Brothers
Kidney-Shaped Heads Crown Organ Donor Dolls
Paranormal Activity Creator Cuts Deal for Alien Movie Area 51
Wired.com
11-30-thru-12-04-09
Las Vegas's New City Center: Architecture Review
L.A. Weekly 12.04.09
Robert Downey Jr. Gives Action Hero Spin to Sherlock Holmes
Wired Magazine December 2009
Inventor/Musician Trimpin Tunes Into Everyday Sound
Wired Magazine December 2009
Movies: Grim The Road Serves Unlikely Holiday Fare The Road Takes Desolate Journey From Page to Screen
Wired.com 11-23-thru-11-25-09
'Live Music' Short Showcases Crowdsourced Animation
Movies: New Moon Casts Spell Over 'Twi-Hards'
Concept Art Offers Peek at Tim Burton's Twisted Genius
Bruno DVD Packs Cringe-Worthy Extras
DIY Fanboys Revive Canceled Sci-Fi Show in New Sitcom
Blowback: Pass Sentence on New Prisoner, Win DVD Set
Wired.com 11-16-thru-11-20-09
Where the Botched Children's Book Adaptations Are
Movies: 2012 Turns Apocalypse Into Spectacle
Whedon's Dollhouse Is Fox's Latest Sci-Fi Fatality
2012's Doomsday Predecessors: An Apocalyptic Primer
Shit My Dad Says: Twitter Got Me a Sitcom Deal
J.J. Abrams Might Direct NBC Spy Drama Undercovers
Wired.com 11-09-thru-11-13-09
J.J. Abrams Might Direct NBC Spy Drama Undercovers
Movies: Jim Carrey Revives Christmas Carol as 3-D Spectacle
'Half-Life' Visuals Supercharge Sci-Fi Short 'Escape From City-17'
Review: V's Hypnotic Alien Leader Demands Submission
Sherlock Holmes Replaces Microsoft to Back MacFarlane Show
Wired.com
11-02-thru-11-06-09
'Live Music' Short Showcases Crowdsourced Animation
Movies: New Moon Casts Spell Over 'Twi-Hards'
Concept Art Offers Peek at Tim Burton's Twisted Genius
Bruno DVD Packs Cringe-Worthy Extras
DIY Fanboys Revive Canceled Sci-Fi Show in New Sitcom
Blowback: Pass Sentence on New Prisoner, Win DVD Set
Wired.com
11-16-thru-11-20-09
Where the Botched Children's Book Adaptations Are
Movies: 2012 Turns Apocalypse Into Spectacle
Whedon's Dollhouse Is Fox's Latest Sci-Fi Fatality
2012's Doomsday Predecessors: An Apocalyptic Primer
Shit My Dad Says: Twitter Got Me a Sitcom Deal
J.J. Abrams Might Direct NBC Spy Drama Undercovers
Wired.com
11-09-thru-11-13-09
J.J. Abrams Might Direct NBC Spy Drama Undercovers
Movies: Jim Carrey Revives Christmas Carol as 3-D Spectacle
'Half-Life' Visuals Supercharge Sci-Fi Short 'Escape From City-17'
Review: V's Hypnotic Alien Leader Demands Submission
Sherlock Holmes Replaces Microsoft to Back MacFarlane Show
Wired.com
11-02-thru-11-06-09
Charlize Theron Takes on Mad Max 4
Review: Gentlemen Broncos Rides Sci-Fi Cheese Into Ground
Movies: Sci-Fi Spoof Gentlemen Broncos Follows King of Pop Pic
Microsoft Bails Out of Seth MacFarlane's Variety Show
New Web Series Serve Up Vampire Tales, Slasher Horror
Paranormal Activity Tops Box Office, Spurring Talk of Sequel
Wired.com 10-26-thru-10-30-09
Movies: Astro Boy Takes Flight Amid Hellish Horror Shows
Technicolor Teams With Hollywood to Expand 3-D Theaters
Transformers 2 DVD Bundle Packs a Michael Bay Punch
Halloween Party Prize: Leonard Nimoy Photo Session
Kerouac's Big Sur Documents Writer's Life After On the Road
Wired.com
10-19-thru-10-23-09
Review: Where the Wild Things Are is Bold but Grumpy
Movies: Where the Wild Things Are Revamps Sendak Classic
Monty Python Reunion to Stream Live
Comedy's Holy Grail? Win Tickets to Monty Python Reunion
Director Bryan Singer May Return to X-Men Films
Wired.com 10-12-thru-10-16-09
Review: Smart We Live in Public Probes Web Genius' Hubris
Movies: Cinematic Smorgasbord of Gervais, Zombies, Docs
For Sale: Stan Winston's Terminators, Other Sci-Fi Memorabilia
Hugh Jackman May Join Robot Boxing Flick
South Park Movie Streams Free for 10th Anniversary
2012 Clip Gets Massive TV Rollout
Blowback: Dollhouse Sexbots Reboot for New Season
Real Science Sets Up Surrogates' Futuristic Robot Action
Wired.com 09-28-thru-10-02-09
Fast-Paced 'FlashForward' Promises Epic Mind Games
Movies: Bruce Willis Wigs Out in Sci-Fi Surrogates
Blowback: Heroes Crams More New Characters Into Season Premiere
Wired.com 09-21-thru-09-25-09
Video: Comedy Duo Spills 14 Emmy Spoilers in 39 Seconds
Blowback: Fringe Keeps It Fresh in Season 2 Debut Blowback: Does Fringe Keep It Fresh in Season 2 Debut?
Movies: Megan Fox Gets Into Jennifer's Body
Heroes Stars on Season 4: Deathbed, Yes; Lesbians, Maybe
Sparhusen Is Swedish for Spinal Tap
Wired.com 09-14-09 thru 09-18-09
p>
Sparhusen Is Swedish for Spinal Tap
Movies: Kate Beckinsale Goes Ballistic in Whiteout
Late-Night, Sex- and Booze-Fueled Texting Inspires Fox Sitcom
Rag Dolls Rule on Planet of the Sad Sacks
DIY Animation Drew Tim Burton to 9's 'Stitchpunk' Story
Nicolas Cage Quits Green Hornet Movie
Monty Python Reuniting for 1 Wild Night in New York
Review: '9' Fuses Bleak Sci-Fi Story With Brilliant Visuals
Wired.com
09-07-09 thru-09-11-09
The Blob Gets Re-Molded by Rob Zombie
Director, Studio Aim For District 9 Sequel
Summer Glau, Battlestar Galactica Stars Join Dollhouse
Movies: Rob Zombie Comes Calling With Halloween 2
Will Smith Returns as Superhero in Hancock 2
Where the Wild Things Are Music Hits MySpace
Pirates' Gore Verbinksi Quits BioShock Movie
Wired.com 08-23-09 thru 08-28-09
Chilling New Wolfman Images Scream Bloody Murder
Beatles' Yellow Submarine May Surface as 3-D Remake
Review: Nightmare Nazi Dominates Tarantino's Inglourious Basterds
Microsculptor's Incredible Hulk Fits in Eye of Needle
Movies: Tarantino's Inglourious Basterds Ends Summer With Nazi-Bashing Bang
Studio Greenlights Spider-Man 5 and 6 Scripts
Wired.com 08-17-09 thru 08-21-09
Blowback: Does Experimental District 9 Work Alien Magic?
Review: Gritty Lead Performance Drives 'District 9' Alien Verite
Movies: District 9, Ponyo Bring Welcome Dose of Sci-Fi, Anime
Vintage Mexican Sci-Fi Beams a Blast From the Past, con Queso
Wired.com 08-10-09 thru 08-14-09
Vintage Mexican Sci-Fi Beams a Blast From the Past, con Queso
Peter Jackson Crafts Creepy Fantasy Land in Lovely Bones
Movies: G.I. Joe: The Rise of Cobra Launches Stealth Attack
Bryan Singer to Produce Syfy's End-of-World Miniseries
3-D Metal 'Printers' Launch DIY Action Figure Service
Snyder's Sucker Punch Taps Carla 'Silk Spectre' Gugino

Ridley Scott To Direct Alien Prequel
Funny People Cage Fight: Craigslist Founder vs. MySpace 'Friend'
Tron Legacy Director Heads for Sci-Fi Oblivion
Movies: Apatow's Funny People Salutes Raunchy Nerd Humor
Waiting for Wolfman: Release Bumped to 2010
First Look: Megan Fox's Jonah Hex Poster
Hollywood Prop Shop Sells Off Classic Sci-Fi Artifacts
Wired.com 07-27-09 thru 08-01-09
EasyLOL Aggregates Tittering Tweeters
Wired.com
08-03-09 thru 08-07-09
Robert Downey Jr.: 'Down For the Cause' of Sherlock Holmes Sequels
Josh Brolin, Megan Fox, Jonah Hex: Match Made in Comic Heaven
Jackie Earle Haley Revives Freddy Kreuger in New Nightmare
District 9 Rises From Ashes of Halo
First Look: Astro Boy, Kristen Bell Plug Into Comic-Con
First Look: New Alice in Wonderland Trailer
Movies: Evil Orphan Counter-Programs Harry Potter
First Look: Filmmaker De-Constructs 9 Sci-Fi Character Cards
First Look: Imaginarium of Doctor Parnassus' Heath Ledger Clip
7 Women Who Will Rock Comic-Con
Comic Book Warrior Magdalena Proceeds Toward Big Screen
Wired.com 07-20-09 thru 07-24-09
Walter Cronkite Dead at 92
Terry Gilliam's Final Cut for Heath Ledger and Imaginarium
Movies: Harry Potter 6 Rolls Over Dark Knight Record
Emmy Nods Include Lost and Family Guy
Review: Harry Potter Powers Through Puppy Love, Potions in 'Half-Blood Prince'
Cheech and Chong Light Up Tron Spoof
Natalie Portman Joins Thor Cast
Wired.com 07-13-09 thru 07-17-09
3 Finalists Make Cut to Play Green Lantern
Heder's Out-of-Work IT Guy, Sci-Fi Defying Gravity Coming to TV
Michael Moore Calls New Bailout Doc a Love Story
Harry Potter Podcast, iPhone App Hype Half-Blood Prince
Movies: Bruno Ups Ante on Outrage
Best Summer Movie Trailers of 2009
Talenthouse 'Creative Community' Connects All Kinds of Artists
Michael Jackson Memorial Service Streams Live
Review: Stars' Chemistry Ignites Sci-Fi Antics in Warehouse 13
Wired.com 07-06-09 thru 07-10-09
Movies: Bale Chases Depp's Dillinger in Public Enemies
DVDs: IT Crowd Now, Battlestar Galactica in July
Virtuality's Low Ratings Dim Prospect for Renewal
Noah Wyle to Fight Aliens in Spielberg-Produced TV Pilot
Wired.com 06-29-09 thru 07-03-09
Making Fire for Harry Potter: ILM Explains Underwater Flames
Wired Magazine July 2009)
Virtuality Web Campaign Calls for Full-Blown Series
Blowback: Does Transformers 2 Blow? Moviegoers Weigh in
Review: Strong Acting, Holodeck From Hell Boost One-Off Virtuality
Charlie's Angels' Farrah Fawcett Dies at 62
First Look: Tim Burton Takes Alice to Weird, Wild Wonderland Movies: Transformers Gets Its Revenge Superhero Films Get a Shot as Oscar Doubles Best Picture Playing Field
'Robot Sightings' Hype Transformers Worldwide
Review: Transformers: Revenge of the Fallen Takes 'Bot Action to Limit
Wired.com 06-22-09 thru 06-26-09
First Look: FlashForward Spins Global Blackout Into Time-Warp Mythos Report: Cruise and Abrams to Make Mission: Impossible IV
Movies: Moon Goes Wider as Year One Aims for Ancient Laughs Born-Again Bride of Frankenstein in Works
From Fairy Tales to Porn, Anime Heats Up for Summer
TV's Tweeting Tattoo Artist Offers Free Twitter Ink Session
Student Oscar Winners Play in Sci-Fi Sandbox
From Fairy Tales to Porn, Anime Heats Up for Summer
Battlestar Boss Teases The Plan Spinoff
Wired.com 06-15-09 thru 06-19-09
Michael Mann Sets Midwest Scene: Dillinger Bio-Pic Public Enemies Gets Heartland Locations
On Wisconsin Magazine July/August 2009 n/a online
Horror Maestro Marcus Nispel Nabs Conan the Barbarian Film
Holy Gort! Hollywood Robots Invade Pittsburgh
Ron Moore's Virtuality Takes Virtual Reality to Outer Space
Movies: Limited Moon Opening Offers Big Sci-Fi Vision
Tim Burton Gets a Show at New York's Museum of Modern Art
First Look: Steampunk Gadgets Go Wild in Warehouse 13
Katee 'Starbuck' Sackhoff Joins 24's Terror Fighters
Heroes' Masi Oka to Make Role-Playing Movie
Roller Coaster Cams Capture Riders in Action
Blade Runner Inspires Ridley Scott's New Web Series
Sex Galaxy Recycles Vintage Porn, Sci-Fi for Blue-Green Film
Wired.com 06-08-09 thru 06-12-09
Star Trek Fights Harry Potter for Best Trailer Trophy
Totally New Total Recall in the Works
Movies: Sleestaks Attack, Dinos Get Goofy in Land of the Lost
Burlap-Skinned Creatures Flee Giant Robots in 9
David Lynch's Interview Project Probes American Dreams
Movies: Pixar's Up Swaps Robots for Humans
Raw Meat, Favors Fuel $70 Zombie Movie Colin
Wired.com 06-01-09 thru 06-05-09
Terminator Blowback Giveaway: Judgment Day for Salvation
Wired.com 05-26-09 thru 05-31-09
Terminator Blowback Giveaway: Judgment Day for Salvation
Movies: Terminator 4 Gets Jump on Night at the Museum 2
IMAX CEO: Screen Size Isn't Everything
Review: Loud Terminator Salvation Makes for Grim Spectacle
Wired.com 05-18-09 thru 05-22-09
DVDs: Star Trek Collections Now, Watchmen Later
7 Webotainers Worth Watching
Movies: Angels & Demons Takes on Star Trek, Week 2
Star Trek Movie Breaks 'Odd-Number Curse,' Wired.com Readers Say
Fringe Finale Blowback: Nimoy Makes 'Massive' Appearance
Exotic Star Trek Locales Are All Over the California Map
YooouuuTuuube Turns Videos Into Trippy Moving Mosaics
Wired.com 05-11-09 thru 05-15-09
'Star Trek' Blowback: Weigh In to Win Hefty Blu-ray Set
Terminator Salvation's Not for Wussies, Sam Worthington Says
Leonard Nimoy Cracks 10 Star Trek Jokes on Letterman
Movies: Star Trek Blasts Back Into Theaters
Review: Invigorated 'Star Trek' Sparkles With Wit, Spectacle
Deadpool Gets His Own X-Men Movie
Reznor, Fallon Rack Up Webby Awards
Ultradome Promises Ultranerd Battles
Fringe Renewed for Second Season of Weird Science
Film Riot Shows You How to Make a Head Explode
Wired.com
05-04-09 thru 05-08-09
Tiny Enterprise Models Channel Quirky Star Trek Visions
Review: Wolverine's Unbridled Rage Never Looked So Good
Sci-Fi, Animation Feed Hollywood's Summer Hunger
Movies: Wolverine Tears Into Girlfriends
'Wolverine' Blowback: Your Favorite Mutant?
Wired.com 04-27-09 thru 05-01-09
Movies: Mutant Chronicles, Soloist or Caprica?
Pilot Season Follows My Damn Channel's Formula for Success
Wired.com 04-20-09 thru 04-24-09
Movies: Russell Crowe Takes on Crank Sequel Fans Will Decide Where Wolverine Premieres Webby Awards Nominees Rope Together Weird, Wonderful a>
Wired.com 04-13-09 thru 04-17-09
Webby Award Nominees Rope Together the Weird and the Wonderful
Report: Fox Cancels Dollhouse Episode
Webisodes Prime Pump for CBS' Bloody Harper's Island
Movies: Observe and Report May Slay Dragonball
Report: Leonard Nimoy to Join Fringe
For Sale: Kirk, Spock in Wax
Manga-Style Wolverine Shreds Bookstores
Day the Earth Stood Still DVD Bundles 1951 Classic
Anna Torv Talks Up Fringe Personalities
Wired.com 04-06-09 thru 04-10-09
Inside Terminator Salvation's Bleak World
Alien Trespass Milks '50s Sci-Fi for Laughs
Movies: Adventureland Comedy Crashes Into Fast & Furious
Wolverine Leak Still Not Plugged
Life on Mars' Time-Traveler Calls it Quits
Studio Greenlights Star Trek Sequel Script
Celebs, Nerds Win Big at Streamy Web Awards
Wired.com 03-30-09 thru 04-03-09
Virtual Sets Move Hollywood Closer to Holodeck Streamy Web Awards Honor Dr. Horrible, Battlestar Galactica Review: Monsters vs. Aliens Hypes Sci-Fi Antics in 3-D
Movies: 3-D Monsters vs. Aliens Tackles 12 Rounds
Quantum of Solace DVD Demystifies Globe-Hopping Bond
Comic Freak MODOK Spawns Multiple Variations
Bailed-Out Bank of America Boosts 3-D Monsters vs. Aliens
Wired.com 03-23-09 thru 03-27-09
Blowback: Does Battlestar Galactica Finale Satisfy?
Twilight DVD Spawns Midnight Madness
Bailed Out Bank of America Boosts 3-D Monsters vs. Aliens
Knowing Director Alex Proyas: Digital RED Camera Rocks
Movies: I Love You, Man vs. Julia Roberts
Beyond Bizarre: Tokyo! Filmmaker Creates His Own Language
Dancing Star Wozniak Wants Your Vote
Wired.com 03-16-09 thru 03-20-09
Movies: Attack of the Remakes vs. Watchmen
The superhero outfit belonging to Nite Owl II (Patrick Wilson) comes out of retirement in Zack Snyder's adaptation of Watchmen.
Dark Knight Nabs 11 Saturn Nominations Snubbed by Oscar, Batman ran rampant through the Academy of Science Fiction, Fantasy & Horror membership, judging from nominations announced Tuesday by the group in advance of its 35th annual Saturn Awards.
Nerds Rally for Steve Wozniak, the Dancing Machine
Steve Wozniak wants your vote. As seen in the video above, the Apple co-founder, who does the cha-cha with Russian ballerina Karina Smirnoff on Monday night's season premiere of Dancing With the Stars, hopes Mac fans will call or text
Stop-Motion Pioneer Ray Harryhausen Books His Scariest Creatures
03-09-09 thru 03-13-09
Blowback: 'Watchmen' Watchers Weigh In
Woz Does the Cha-Cha on 'Dancing With the Stars'
Review: Watchmen Actors Trumped by Awesome Visuals
Movies: Hollywood Gives Watchmen a Wide Berth
Watchmen's World Springs From Strangelove, Taxi Driver
Stunt Actress Zoe Bell Smacks Web as Angel of Death
Wired.com 03-02-09 thru 03-08-09
Ellen Kuras Shoots From the Heart
The Betrayal Captures Laotian Family's Epic Travails
Brown Alumni Magazine March/April 2009
Movies: Chun-Li Squares Off Against Jonas Brothers
Michel Gondry May Direct Seth Rogen's Green Hornet
And the Oscar Goes to . . . Wall*E
Wired.com 03-23 through 02-27-09
02-22 And the Oscar Goes to Slumdog Millionaire, Heath Ledger, Kate Winslet, Sean Penn
02-20 Conan O'Brien 16 Years of Late Night Geek Mockery
Beyond Oscar: Heath Ledger Legacy Grew from Intense Devotion to Craft Oscar Pundits: Ledger's a Lock, Rourke is Up in the Air
Linda Hamilton in Talks to Talk in Terminator 4
02-19 Movies in Theaters This Week (Feb. 20)
02-17 Nite Owl Coffee's Brewing for Watchmen Fans
SXSW Exports Film Fest Flicks to On-Demand Cable
Wired.com 02-17-09 through 02-22-09
02-13 Blowback: Does Dollhouse Blow Your Mind?
Stealing Lincoln's Body Reanimates 'Asymmetric' President
Prime Time Brainiacs: Wozniak Dances, Nobel Laureate Does Big Bang
Whedon's Sci-Fi Dollhouse Opens Its Mind-Wiping Doors
02-12 Bond Girl Eva Green Goes Futuristic in Womb
Movies in Theaters This Week (Feb. 13)
02-11 Wolverine Trailer Trilogy Starts Sunday
Wired.com 02-09-09 through 02-13-09
Push Brings Psychic Warfare to Big Screen
5 Actresses Who Could Replace Angelina Jolie as Lara Croft
Yatterman at Comic Con: Dancin' Superhero Battles Giant Lizards
Apologetic Bale Says Terminator Craziness Fueled Tirade
02-04 Movies in Theaters This Week (Feb. 6)
02-02 Star Trek Mashers Warp Original Series, Old School-Style
Wired.com 02-02-09 through 02-06-09
Data + Art Show Celebrates the Too Much Information Age
Pasadena Exhibtion Offers Geek-Friendly Installations
Los Angeles Times 02.03.09
01-30 Comic Book Wrestler From Hell El Zombo Gets His Close-Up
Exclusive Images Reveal McG's Terminator Salvation Vision
01-29 Movies in Theaters This Week (Jan. 30)
He-Man Comes to Big Screen
01-26 Jamie Bell, Daniel Craig Cast for Tintin
Wired.com 01-26-09 through 01-30-09
01-23 Sundance Posts Free Shorts at iTunes
01-22 Movies in Theaters This Week (Jan. 23)
01-21 Spoiler Wars Heat Up as Lost Return
Wired.com 01-19-09 through 01-23-09
01-16 "Strong Women Steer Battlestar Galactica's Final Voyage 01-15 Movies in Theaters This Week (Jan. 16)
Juiced-Up Script Changed Bale's Mind About Terminator Salvation
01-13 Dollhouse Creator Joss Whedon 'Can't Fight the Funny'
01-12 Heath Ledger, Wall-E Win Golden Globe
01-11 24 Blowback: Action Clicks as Clock Ticks on Season 7
Wired.com 01-12-09 through 01-16-09
01-08 Movies in Theaters This Week (Jan. 9)
01-07 Terminator's McG to Remake 20,000 Leagues
Oscar Love for Dark Knight, Hellboy II
01-06 Anatomy of a Scream: Bugging Out in The Unborn
Wired.com 01-05-09 through 01-09-09
WIRED.COM 2008
Wired.com 12-31-08
12-31 2009 Movie Guide: Where the Wild Films Are
Wired.com 12-22-08 through 12-23-08
12-23 Review: The Flesh Is Willing but The Spirit Is WeakSuperhero Flicks Make Oscar Visual Effects Short List
Movies in Theaters This Week (Dec. 25)
12-22 Fox Greenlights Manhattan Werewolves Dramedy, Bitche
Wired.com 12-15-08 through 12-19-08
12-18 Movies in Theaters This Week (Dec. 19)
12-17 12-17 Timecrimes Director Masters Creepy Sci-Fi on a Shoestring< /a>
12-15 Terminator 5 Already in Motion

Wired.com 12-08-08 through 12-12-08
12-12 Review: The Day the Earth Stood Still Takes a Tumble
Superhero Flicks Make Oscar Visual Effects Short List
12-11 From Hulk to Gort, Monster Man Gets Creative With Creatures
12-10 Movies in Theaters This Week (Dec. 12)
12-09 Creepy Joker Music Explained on Dark Knight DVD
12-08 Twilight Sequel Moves Ahead, Without Director
Rare Sci-Fi Movie Props Hit Auction Block
p>
Wired.com 12-01-08 through 12-05-08
12-05
An Injection of Hard Science Boosts TV Shows' Prognosis
12-04
The Office's Krasinski Bringing Hideous Men to Sundance
Freaky Alien Flick They Live May Live Again
12-03
Movies in Theaters This Week (Dec. 5)
Duchovny Back for More Californication
Quantum of Solace Breaks Bond Box Office Record
12-02
Sci Fi Channel Greenlights Caprica Series
12-01
Street Artists Launch DIY Vid Series
Wanted DVD Package Spills Action Secrets
Wired.com 11-24-08 through 11-28-08
11-26 14 Reasons to Be Grateful This Thanksgiving
11-25 Movies: In Theaters This Week (Nov. 26)
Roll-Outs Keep Coming for Web-Based Series
11-24 Blowback: Is 24: Redemption Worth the Wait ?
Huge Twilight Box Office Points to Sequels
Wired.com 11-17-08 through 11-21-08
11-20 Movies: In Theaters This Week (Nov. 21)
11-19 Sharp-Eyed Moviegoers Spy Bond Bloopers
J.J. Abrams and His Stars Talk Trek
11-18 Fancy 300 DVD Set Paves Way for More Toga Movies
11-17 Twilight Taps Teen Vampire Tales for Silver Screen
Del Toro to Remake Pinocchio
Quantum of Solace Breaks Bond Box Office Record
Wired.com 11-10-08 through 11-14-08
11-14 Bond Blowback: 007 Fans Weigh In on Quantum of Solace
Review: Gervais Gets Raunchy for Big Laughs in HBO Special
11-13 Movies: In Theaters This Week (Nov. 14)
Smackdown: Life on Mars vs. Eleventh Hour
Cartoonist Pictures Obama as Spock, McCain as Kirk
11-12 Review: Quantum of Solace: Bad Title, Good Bond
11-11 Mayor of Batman Sues Dark Knight Producers
11-10 YouTube to Stream MGM's Full-Length Oldies
Wolf Man Director Takes on Captain America
Wired.com 11-03-08 through 11-07-08
11-07 Spielberg and Will Smith May Redo Bloody Oldboy
11-06 Movies: In Theaters This Week (Nov. 7)
11-05 Battlestar Galactica Props Hit Auction Block
11-04 5 Badass Hollywood Presidents
11-03 Heroes Producers Get the Ax
Wired.com 10-27-08 through 10-31-08
10-31 Videogame Engines Drive Machinima Filmfest
10-30 Sam Mendes to Direct Graphic Preacher
10-29 New 3-D Theater Setup Amplifies the Action in Hollywood
Movies: In Theaters This Week (Oct. 31)
10-28 Ray-Gun Maestro Zaps Steampunk Conventionbr />
Wired.com 10-20-08 through 10-24-08
10-24 Saw's Gory Gadgets Catapult Creator Into Director's Chair
Jules Verne Fest Salutes Galactica, Planet of the Apes
10-23 Movies: In Theaters This Week (Oct. 23)
10-22 Trick or Treaters Dig Joker, 'House Bunny'
10-21 Dead Space Launches Webisode Finale
10-20 Dark Knight Dominates Scream Awards
Horror Fest Slices Movies Into 66-Second Shorts
Wired.com 10-13-08 through 10-17-08
10-17 Max Payne Movie Tries To Beat Videogame Curse
YouTube Streams Free Feature-Length Film, Princess of Nebraska
10-15 Movies: In Theaters This Week (Oct. 17)
Heroes' Hayden Drops F-Bomb on McCain
Prototype This Wizards Tame Road Rage With Smart Cars
10-14 Heroes' Hayden Drops F-Bomb on McCain
10-13 Trick or Treaters Dig Joker, 'House Bunny'br /> Review: Light Touch Works for My Own Worst Enemy
Wired.com 10-06-08 through 10-10-08
10-10 Mammoth Matrix DVD Set Packs 35 Hours of Bonuses
Josh 'W.' Brolin May Play Comic Book Hero Jonah Hex
10-09 Sci Fi Channel Travels to Past for 2009 Movies
Rufus Sewell Channels Brainy Biophysicist for Eleventh Hour
10-08 Movies: In Theaters This Week (Oct. 10)
10-07 Sticker Bomb Book Peels Off World of Decal Art
Hulu Streams Feature-Length Bush Documentary, Crawford
10-06 Director Nolan Re-Upping for Dark Knight Sequel?
Stan Winston's 'Legacy' May Include Green Lantern
Wired.com 09-29-08 through 10-03-08
10-03 AMC Mines Red Mars for New Sci-Fi Series
10-02 Star Trek Writers Brace for Impact
Movies: In Theaters This Week (Oct. 3)
Fringe Goes the Distance as Fox Orders Full Season
10-01 Batman Sidekick Robin Gets TV Pilot
a>
09-30 Anime's Hell Girl Comes to American TV 09-29 Branagh May Direct Marvel's Thor
Wired.com 09-22-08 through 09-26-08
09-26 Santos' Geek Superhero Shines at Fantastic Fest
Review: Eagle Eye Spies Thrills in Surveillance Hell
Buffy's Gellar Tabbed for HBO Dramedy Wonderful
09-25 Movies: In Theaters This Week (Sept. 26)a>
09-24 Geeks Who Dress Like a Dorks On-Screen (but Still Look Cool)
09-22 Review: Heroes Girds for Grim Third Season
Wired.com 09-15-08 through 09-19-08
09-19 Festival Hands Out Real Money for Fake Trailer
09-18 Movies: In Theaters This Week (Sept. 19)
09-17 Critics Kill Buzz for Cronenberg's Fly Opera
09-16 Iron Man: Fast Friends Webcomic Launching
09-15 Doc Profiles Watchmen Creator Alan Moore
Wired.com 09-08-08 through 09-12-08
09-12 Digital Art Illuminates Minitek Festival
Sackhoff Scores New Crime Drama
09-11 Outer Space Art: The Invasion
09-10 Movies: In Theaters This Week (Sept. 12)
Review: Dim Bulbs Light Up Burn After Reading
09-09 Fringe Blowback: Share Your Take on J.J. Abrams' New Show
09-08 More Spider-Man for Maguire and Raimi
Wired.com 09-02-08 through 09-07-08
09-07 Two-Headed Brain Trust Injects Fear Into Fringe
09-04 Abrams on Fringe: Science, Conspiracies and 'The Pattern'
09-03 Film Fest Aims to 'Impact' Convention-Goers
Wired.com's Picks From Filminute's Microvideo Short-List
Filminute's Attack of the International Supershorts
Wired.com 08-25-08 through 08-29-08
08-29 Superheroes Stoke Hot Summer Box Office
08-28 Babylon A.D.: Add Another Mangled Movie to the List
08-26 Lonelygirl15 Team Launches Sci-Fi Resistance
08-25 Obama Art Springs Eternal in Denver, Online
Lost Brings Back Michelle Rodriguez
Filminute's Attack of the International Supershorts
Fringe Rocks Fox
J.J. Abrams and Company Deliver the Thrills (Wired Magazine Playlist: September 2008)
Wired.com 08-18-08 through 08-22-08
08-23 Z Rock's Metalheads Mine Kiddie Gigs for Laugh
08-22 Strange and Stranger Salutes Spider-Man Artist Steve Ditko
08-21 Arnold's Voice in Terminator? Maybe, Says Producer
Hobbit Watch: Jackson and del Toro Will Adapt Tolkien In-House
08-18 Cryptozoo Crew 'Cryptids' Leap From Comics to Movies
Wired.com 08-11-08 through 08-16-08
08-15 Indie Film Fest Lets Attendees Pick the Screenings
08-14 We Are Wizards Digs Into Harry Potter Subculture
08-12 A href="http://blog.wired.com/underwire/2008/08/incredible-hulk.html">Incredible Hulk Writer Sets Sail With Argonauts
Rosario Dawson's Gemini Division Is Set for Web Debut
08-11 Dark Knight Primed to Topple Star Wars
Lautner Futurist Chemosphere John Lautner Exhibition Showcases Visionary Futurist (Wired Magazine Playlist, August 2008)
Wired.com 08-04-08 through 08-09-08
08-09 DIY Filmmaker Wins Big With Midnight Kiss
08-08 Fall TV Preview: Time Travel, Vampires and Weird Science
08-07 Make a Porno Actress Takes on Laura Bus
Franco Blowing Smoke on Superbad/Pineapple Express Mashup?
08-04 Miki Falls Manga Headed for Movie Screens
Wired.com 07-28-08 through 08-01-08
08-01 Prince of Persia Picture Bumped a Year
07-31 Spider-Man Nemesis Venom May Get Spinoff
07-29 Swarm of Angels Posts Open-Source Movie Trailer
07-28 Spacey Searches for Undiscovered Comic Artists
Wired.com 07-21-08 through 07-25-08
07-25 Jon Heder To Play Online Zombie
RoboCop Back on the Beat
GoAnimate Leashes Underdog for D.I.Y. Site
07-24 Q&A: Baghead Filmmakers Dig D.I.Y. Horror
07-22 Q&A: X-Files' Chris Carter Talks Paranoia, Secrecy and the Element of Surprise
Futuristic Design Drives 'Giant Robots in a Lazy River' Project
C-3PO Flash Drive Takes Its Bow at Comic-Con
07-21 Lost Producers Talk Season Five
Sci Fi Channel Revs Up New Slate
Wired.com 07-14-08 through 07-18-08
07-18 Comics-Based Movies Keep on Comin'
07-16 Joker Plays the Wild Card in Dazzling Dark Kni ght
Mark Cuban to Show New Movies on TV Before Theatrical Release
07-15 Terminator Talent Talks Up New Sarah Connor Season
Fox TV Boss Previews Sci-Fi Roster
Posthumous Oscar for Heath Ledger's Joker Performance
Wired.com 07-07-08 through 07-11-08
07-11 Brilliant 'UFO' Controlled Remotely by SMS
Ricky Gervais Swerves Right for Stand-Up Special
Elvis Costello Aims for Truth as Talk Show Host
Josh Hartnett Revisits Dot-Com Meltdown in August
07-10 n/a
07-09 Art Geek Creates 3-D on a Shoestring
Mark Cuban to Show New Movies on TV Before Theatrical Release
07-07 Hellboy's Mike Mignola Talks 'Language of Monsters
Wired.com 06-30-08 through 07-03-08
07-03 Fincher Brings Goon Comic to Big Screen
Review: Portman Peps Up Sluggish My Blueberry Nights
07-02Ferrell, Cohen Re-Team in Sherlock Holmes Movie
07-01 Skype's Viral Laughter Chain Showcases Video Giggle
Lost's Fox May Play Reformed Assassin
Tarantino Talks a Blue Streak on Inglorious Bastards
06-30 300 Producer Plans Another Spartan Movie
Wired.com 06-23-08 through 06-27-08
06-27 Secrets of Wanted's Insane Action
TurnHere Points Video Makers Toward Paycheck
Anime Fest to Include World's Biggest Blogger
Invisible Hand Readies Alien Conspiracy Comic Serpo
06-26 Review: Angelina Jolie Speed-Races Through Wanted's Sexy Violence
06-24 Animator's Crazy Creatures Inhabit Natural History Museum Show
Nike Billionaire to Break Ground on New Animation Studio
06-23 Godzilla Producer Gets Small for Amnesia 'Microseries' Blank Slate
The Art of the Flash Drive
Designer "Mimibot" Packed with Goodies (Wired Magazine: July.08n/a online)
Wired.com 06-16-08 through 06-20-08
06-20 Get Smart Gets Goofy Gadgets
Bonking Ben Affleck Auteur Gets Feature Deal
Movie Editing Contest: Cut It Your Way
Comedy Central Launches Web Shorts Freak Show
TV Review: Incredible Hulk Is a Handsome Hunk of Mayhem
06-19 Hellboy II, Jolie's Wanted Debut at Los Angeles Film Festival
Wizard World Loads Up On Comics
06-18 J.J. Abrams To Make Movie About Fantastical New York Apartment
Greek Comic Book Artist Lands Last Call Movie Deal"
06-17 Sci-Fi Fans Name Best TV Shows, Movies and Books"
Iron Man, Spidey Movies Move Forward
06-16 The Happening: Science Fact or Science Fiction?
Downey May Saddle Up for Sci-Fi Western a>
Special-Effects Pioneer Stan Winston Dies at 62
Wired.com 06-09-08 through 06-13-08
06-13 Box Office Battle: Hulk vs. Happening
TV Review: Incredible Hulk Is a Handsome Hunk of Mayhem
06-12
06-11 Battlestar Bikers Helfer and Sackhoff Hit the Road
Crunchyroll Site Rolls Out the Anime
Harrison Ford's New Gig? Maverick Scientist
06-10 Iron Man, Spidey Movies Move Forward
06-09 DiCaprio to Play Nolan Bushnell in Atari
Blobwall Bubbles Over at L.A. Art Gallery
Stan Lee Speaks in Comic Books Unbound
Wired.com 06-02-08 through 06-06-08
06-06 Doctor Who Sidekick Now Plays Sex Worker
One-Eyed Robot Competes With Funny Frog for Student Oscars
06-05 TV Commercial Whiz to Direct Zack Snyder's Army of the Dead >
Brave New World Next for Ridley Scott?
06-04 Peter Jackson's "Weta Cave" Opens for Business
Hulk Producer Launches Final Orbit
Bryce Dallas Howard in Terminator 4? To Be Decided
06-03 Alfred 'Doc Ock' Molina Joins Prince of Persia Movie
Another Hole in the Head Fest Showcases Women of Sci-Fi
How Juno Spoofers Won MTV's Golden Popcor n
06-02 Depp as Vamp? Tim Burton Probes Dark Shadows
Star Trek Trio Makes Biggest Trek of All
Wired.com 06-02-08 through 06-06-08
06-06 Doctor Who Sidekick Now Plays Sex Worker
One-Eyed Robot Competes With Funny Frog for Student Oscars
06-05 TV Commercial Whiz to Direct Zack Snyder's Army of the Dead >
Brave New World Next for Ridley Scott?
06-04 Peter Jackson's "Weta Cave" Opens for Business
Hulk Producer Launches Final Orbit
Bryce Dallas Howard in Terminator 4? To Be Decided
06-03 Alfred 'Doc Ock' Molina Joins Prince of Persia Movie
Another Hole in the Head Fest Showcases Women of Sci-Fi
How Juno Spoofers Won MTV's Golden Popcor n
06-02 Depp as Vamp? Tim Burton Probes Dark Shadows
Star Trek Trio Makes Biggest Trek of All
Wired.com 05-27-08 through 05-30-08
05-30 TV's Movie Spoof-O-Rama Peaks Sunday
Lost Co-Producer Adapts Comic Book as a Marvel Movie
05-29 Big Fantastic's Short Shooters Talk Fast
Sci Fi Channel Goes After Gamers With Fidgit
05-28 Virtuality Casts James D'Arcy as Outer Space Shrink
Rival Networks Flatter Lost With Sincere Imitations
05-27 Hobbit Watch: Filmmakers Chat 2-Picture Plan While Legal Action Looms
Incredible Hulk Director Cuts to the Chase
The Next Spider-Man: Maybe Patrick Fugit?
Wired.com 05-19-08 through 05-23-08
05-23 X-Men Director Cranks Up Guitar Hero Ads
Lost Co-Producer Adapts Comic Book as a Marvel Movie
05-22 High Hopes for Indy 4 (but It Won't Beat Spider-Man 3)
Sam Raimi Gets Wizardly in New Zealand
M. Night Shyamalan's New Trailer
3-D Champion James Cameron: My Avatar Rocks
05-21 The Simpsons Get Green for Krustyland Ride
Hollywood Lift-Off for Flash Gordon
05-20 Pac-Man the Movie Moves Forward
Review: Indiana Jones Hits the Mark
05-19 X-Men Invade San Francisco
Hell Boy II: Art of the Movie
Book Captures Mike Mignola Sketches for del Toro's Visionary Sequel (Wired Magazine: June.08) / / printer-friendly
Wired.com 05-12-08 through 05-16-08
05-16
22-Year Old Mississippi Brainiac Wins $100,000 in Jeopardy
King of the Hill's Judge Curates Freaky Animation DVD
X-Files Scribe Switches to Superhero Mode for Hancock
05-15
Woo-hoo! Simpsons' Krusty Gets His Own Roller Coasters
Jack's Back: 24 Returns in November
05-14
Hobbit Watch: Jackson, del Toro to Chat With Fans
Lonelygirl15 Creators Team With CBS
Doc Tells "Real" Crystal Skull Story
05-13
Ex-South Park Boss Seeks Funny Shorts at Inkubation
CBS' New Sci-Fi Series Elemental Tackles Weird Phenomena
Scan This: Art Imitates Tech in Surveillance Show
05-12
Witchblade Publisher Cuts Movie Deal
Box Office: Iron Man Stomps Speed Racer
Ridley Scott Produces Andromeda Strain
Wired.com 05-05-08 through 05-09-08
05-09 Oscar-winner John Gaeta Explains Speed Racer Effects
Festival Hosts Psyched for Global Chatter
Pangea Day Globe-Cast Celebrates Virtual Culture
Lost's Fox Fills Keanu Reeves' Helmet in Speed Racer
Teen Superhero Academies Popping Up All Over
05-08 Free Gum Used as Bribe to Stop Uwe Bol
MTV to Honor Top Online Movie Spoofers
Kids' DIY Raiders Remake Hits Hollywood at Last
11-Year-Old Snags Speed Racer Exclusives
05-07 Review: Surreal Speed Racer Doses NASCAR With Anime>br /> Trailer Trash and Mini Movie Masterpieces Face Judgment
05-06 Green Porno Star Isabella Rossellini Takes on Insect Sex
Family Guy Guy Cuts Sweet Deal
05-05 Chris Carter Picks Favorites for New X-Files DVD
Iron Man Sequel? Of Course
Wired.com 04-28-08 through 05-02-08
05-02 21-Year Old Sci Fi Londoner Wins $1 Million Film Deal
J.J. Abrams Promises to Re-invent Star Trek
05-01 Summer Movie Guide: Superheroes, Sequels and More
World's Best Screamers Win $250
04-30 Review: Iron Man a New High for Robert Downey Jr
04-29 DNA Yields Hyper-Tiny Origami Art at MOMA
04-28 Online Film School + iTunes = Crowdsourced DVD Extras
Wired.com 04-21-08 through 04-25-08
04-23 Blair Witch Director Sets Thriller in Afghanistan
Frank Sin City Miller likes his Actin hard Boiled
04-22 Moon Bloodgood Looking Good for Terminator 4
Arrested Development Maestro Gets Animated
04-21 Ex-Fox Boss Scouts New Talent at Filmaka.com
Hobbit Watch: Del Toro May Decide by Friday
Bomb It!
Doc Shines light on Global Graffiti (Wired Magazine: May.08 n/a online)
Wired.com 04-14.08 through 04-18-08
04-18 Forget Friction: Norton Says He's Happy With Hulk
BSG Co-Creator to Write Sci Fi Trilogy
04-17 First Look: Speed Racer Zips in Candy-Color
NBC Web Series Snags Rosario Dawson
04-16 Star Trek Team Tackles Atlantis Rising
Milla Makes a Thriller
04-15 Spielberg to Make a 3-D Ghost in the Shell
Arrested Development Maestro Gets Animated
04-14 GoslingGreat in Lars and the Good Girl
Indy 4 Star Takes Smart Pill for Dark Fields
Battlestar Galactica Star Tricia Helfer
Q + A With Sci-Fi Sex Robot (Wired.com: 04.03.08 | | printer-friendly version)
Battlestar Galactica First Look
Fourth and Final Season Kicks off With a Bang (Wired.com: 04.04.08 | | printer-friendly version)
How MIT Geeks Conquered Vegas
Real Life Card Shark Jeff Ma Talks 21, Hollywood's Take on His Life as a Blackjack Genius(Wired News: 03.27.08 | | printer-friendly version)
Paranoid Park Meets MySpace
Gus Van Sant Uses Web to Cast Surfkid Drama (Wired News: 03.14.08 | | printer-friendly version)
WIRED.COM 2007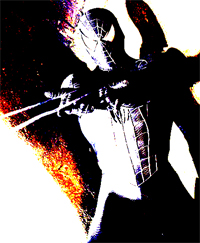 WIRED NEWS 05-14 THRU 05-18-07
18
YouTube's "Loca" Gets Her Own Network Show
|
MPAA Spanks Camcorder Pirates
|
Cuban Re-visits Triple Platform Parker Posey Picture
 | 17
Hobbit, Penguin, Iggy: Elijah Moves On
|
Judge Rules: Embarrassing Sex Diary? Not Wonkette's Fault
| 16
Cannes Shorts Get Some Love
|
Honda Backs Fall Out Boy
|
Frank Miller Directs Graphic "Spirit"
| 15 Â
Amanda Tapping Webisodes Tap Stargate Fan Base
|
Pirates 3: First Look
| 14
NBC Adapts Brit Geek Comedy
|
"Transformers" Director Makes Games for Digital Domain
WIRED NEWS 05-07 THRU 05-11
11 Unknown Auteurs Get Their Shot On The Lot | IFC Webisodes: Psycho Killer Still Lives With Mom | 10 MPAA to Filmmakers: Thank You for Not Smoking | Terminator 4: Let the Casting Begin | 09 Natalie Portman: Dear Video Diary? | National Lampoon Gets Drunk (University) | Spider-Man Text-o-Rama | 08 Elvis Webcasts From Letterman Stage | 07 | Sam Raimi to Make "The Hobbit," Spidey Four? Maybe, Maybe Not | Saw Producers Skip Theaters, Go Direct to Web with Next Movie | Today's Thesis Films: Tomorrow's Hits? | Shrek 3: First Look | 06 Critic-Proof Spider-Man 3 Breaks Box Office Records
WIRED FEATURE 05-02-07
Sam Raimi Geeks Out on Spider-Man
WIRED NEWS 04-30 THRU 05-04
04
Robot Lawnmowers: No Sweat, No Hands, No Emissions
|
Frogs Gone Wild in "Paprika"
| Â 03
Spider-Man 3 Box Office: How Much, How Soon? Â
 | Â
Pretty Woman + South Park Equals Giant Monsters Attack Japan!
| 01
Vintage 360 - Degree Camera Rig Shoots Drive Series
Â
Maguire and Letterman, Together Again
| 30
Rat Spots on American Idol
04-23-07 THRU 04-27-07
04-23 THRU 04-27
27
Blogging Juror Nixes Will & Grace Trial
| Â
Artist Boss Launches Uber
| 26
Charlie Rose Archives Online, Free
|
Novel Approach for Command & Conquer
| 25
Whee! Interactive Designers Storm London
|
Tobey Maguire Snubs Letterman
| 24
X-Files Sequel Inching Forward |
Seduce a Celeb Goes Online
|
Star Wars 30th Anniversary Screening
WIRED NEWS 04-16 THRU 04-20
20
Spider-Man 3: First Look
| 19
Pearl McKay: Baby Landlord
| 18
Jennifer Love Hewitt Speed Painting Takes Off
|
Beyond Ringtones? Flycell Takes a Shot
| 17
AfterWorld Aims for internet, mobile + games
|
Edgy Cable Producers Launch WOW TV
| 16
Kasdan Reworks "Titans"
|
Big Brother Goes Virtual